Bella Has Her Cast Off !
Posted on September 11, 2014
On Thursday, September 4th, Bella and I went to Wake Forest Animal Hospital.  Dr. Manning came in and Bella was her usual charming self.  Her cast was removed and her skin and fur looked great.  There were no rubbed or raw places.  I was tickled to see that by having the recommended routine cast changes, Bella's skin had remained in great condition while it was in the cast. Her little leg isn't as strong as her other legs but time and careful exercise will make that okay. Dr. Manning took an x-ray and the tibia break is knitted back together as solid as it can be.  Bella was checked out and given the necessary shots for her 3rd well puppy visit.  She displayed that sparkling personality that she has while Dr. Manning completed his exam.  Perfectly healthy was the verdict.  It really was great being back under the care of  Dr. Manning.  I trust him and his judgment.  He is more about making sure our pets are getting the best possible care while also educating owners as to how to give good care for our pets.  In his office, both pet and owner are cared for, thus making it easier to be great doggie parents.  That type of  proactive instruction will help Mark and me to be better equipped  in helping Bella to build strength in her leg.    Another positive thing was that I had a lovely chat with a lady who has an adorable Maltese mix.  He was a little four month old darling.  Our two little pups were happily touching noses and wagging tails.  He too, was just full of personality plus.
I must share this with you.  Even though I have a great doctor for Bella, my human nature was still scared by the way that Bella's right back leg looked in that it was so little and weak.  The common sense part of me knows that time and using her leg will  help it to catch up and grow stronger.  The heart part of me just ached while watching her determined use of that leg.  I caught myself doing the "Mother Helicopter" thing with Bella.  Anything that looked like it might be a potential threat to her leg had my nerves on edge.  Bella, totally oblivious to my concerns, went about her puppyhood like it was an ordinary thing.  It has only been within the last four days that I have been letting her off of her leash so that she can and play.
For what this is worth, let me tell you something that I think helped Bella and me get more comfortable in her recovery efforts.  We left a six foot leash clipped to her harness. It trailed her around in the house and she grew used to having it dragging along next to her.  I don't know how this would work with other puppies but with Bella, instead of using it as a chew toy, she just accepted it as part of her day.  At night I had her sit down and let me unhook the leash and gave her a treat for being so good to wait for me to get her unclipped.  In the morning, it was the same routine.  The leash remained on as long as she was out of her crate.  When she went into the crate for her afternoon rest period the leash was removed.  Out of the crate, back on went the leash.  Being able to be home with Bella full-time is making the potty training go very well and even better since she can now go out with Luke and Rusty and then come back in with them.
It has now been a week since the cast was removed and her little right back leg is now bending more normally and is not looking as weak as it did when the cast was removed.  Her leg muscles are looking much better. I have continued giving her 25 mg of the anti-inflammatory with her evening meal.  I am using 25 mg of the trazodone at night so that she has a restful sleep.  As she continues to improve in learning how to wind down at night, we'll taper off of that as well, going to every other night and then every third night and then no more.  I'd rather make sure that any type of medicine like trazodone is always tapered off.  The last thing I would want is any form of drug withdrawal symptoms for Bella.  Also, in regards to night time potty breaks, she and I sleep until about 6:00 AM now and then go out for our morning break.  Usually she does a number one and then a number two.  When we come back in, Bella goes into her crate for at least another hour's rest, while I do the same in my bed.
Yesterday, Bella proved that she is a water loving dog, as long as that water is coming from puddles, overflowing buckets and even water hose squirts.  Having rolled in water puddles, scooted across wet grass and chased the stream coming out of the water hose, she looked like a drowned rat yesterday evening.   Totally in her glories!  I got some really cute pictures and then it was bath time.  Water loving puppy turned into "help me! I am getting washed in a big bucket. What is this stuff that is all bubbly?"  Let me assure you that washing and rinsing Bella's 11 pound body was like wrestling a 30 pound full grown dog.  Determined is her go-by word.   Each day that passes is another day of continually falling in love with her.  I have lost count of the times that I have thanked God for this sweet puppy who has already given us so much love that our hearts are overflowing.  Luke and her are bonding and seeing the two of them playing and getting close is wonderful.  Rusty and Bella are best friends.  Bella's favorite quick nap spot is lying on top of Rusty's paws and snuggled against his chin.  As God spoke to my heart a few months ago, "healing is happening in this home."
I just had something wonderful happen and I am adding it to this article.  In our potty training, one of the things that we, as owners, need to learn is the language that our particular puppy will adopt as his or her way of telling us that a potty break needs to happen.  Using a routine to go in and out is good, but not always successful.   I am still in the learning process with Bella in how she can let me know to take her out.  Well, today was a stellar moment in that learning curve.  We had just gotten home and Mark went to let Bella out of her crate and walk her.  I unloaded the car and went about putting all the groceries up, busy with details.  Mark had returned with Bella and said he thought she was done.  Bella was on our back deck and she was standing there, tail wagging, watching me.  It was hot so I am saying "come, Bella" and she is doing her special little grouse call bark.  I called again and she verbalized again so I said. "Okay, we can take a walk and we will see what you want."   I started walking towards the far back yard area with Bella enjoying herself, sniffing at leaves and tagging along behind me.  Suddenly, she headed towards a nice patch of yard and "Voila!" puppy poop!  I praised her and I do declare I believe she was more proud of me because I had finally listened and actually heard what she was trying to tell me.  I was tired and it would have been so easy to have tugged her in and not listened.  After all we thought she had been walked enough. We would have had an accident and it would have been our fault.  Happy, Happy, Happy!  At this moment, I think Bella is right proud of me.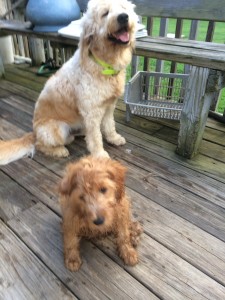 ---
No Replies to "Bella Has Her Cast Off !"
---